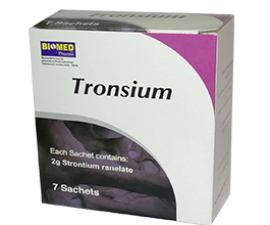 Tronsium
Each Tronsium sachet contains 2 g of strontium ranelate
Pharmaceutical Form: sachet
Composition
Each Tronsium sachet contains 2 g of strontium ranelate.
Indications
Tronsium is a medicine used to treat osteoporosis in postmenopausal women. Tronsium reduces the risk of fracture at the spine and at the hip.
Mechanism of action
Tronsium, which contains the substance strontium ranelate, belongs to a group of medicines used to treat bone diseases. Tronsium works by reducing bone breakdown and stimulating rebuilding of bone and therefore reduces the risk of fracture. The newly formed bone is of normal quality.
Pharmacokinetics
Stronsium ranelate has an absolute bioavailability of about 25% after an oral dose; calcium or food reduces the bioavailability by about 60-70%. Peak plasma concentrations are achieved 3 to 5 hours after an oral dose. Plasma protein binding is low. Stronsium ranelate has a high affinity for bone tissue. It is not metabolized, and has a half-life of about 60 hours. Excretion occurs via the kidneys and gastrointestinal tract.
Osteoporosis
Your body is constantly breaking down old bone and making new bone tissue. If you have osteoporosis (which is especially common in women after the menopause), your body breaks down more bone than it forms so that gradually bone loss occurs and your bones become thinner and fragile. Many people with osteoporosis have no symptoms and you may not even know that you have it. However, osteoporosis makes you more likely to have fractures, especially in your spine, hips and wrists.
Contraindications
Do not take Tronsium if you are allergic to strontium ranelate or any of the other ingredients of Tronsium.
Precautions
- Tronsium is not intended for use in children and adolescents.
- If you have stopped treatment due to hypersensitivity reactions it should be permanent and you should not re-start therapy with Tronsium.
Before taking Tronsium talk to your doctor in the following conditions:
- Severe kidney disease.
- Being treated or have been treated for blood clots.
- Confined to bed or if you are to undergo an operation. The risk of vein thrombosis may be increased in the event of lengthy immobilization.
Drug Interactions
Antibiotics: You should stop taking Tronsium if you have to take tetracyclines or quinolones. You can take Tronsium again when you have finished taking these antibiotics.
Medicines containing calcium: If you are taking medicines containing calcium, you should leave at least 2 hours before you take Tronsium. Calcium containing compound may reduce the bioavailability of strontium ranelate.
Antacids: If you take antacids you should take them at least 2 hours after Tronsium. The antacids may reduce its absorption.
Please tell your doctor or pharmacist if you are taking any other medicines, including medicines obtained without a prescription.
Pregnancy and breast-feeding
Do not take Tronsium during pregnancy or when you are breastfeeding. If you take it by accident during pregnancy or Breastfeeding, stop taking it straight away and talk to your doctor.
Possible side effects
Common: Nausea, diarrhea, headache, skin irritation, memory troubles (memory loss) disturbance in cautiousness. However, these effects were mild and short-lived and usually did not cause the patients to stop taking their treatment. Talk to your doctor if any effects persist, gets serious, or if you notice any side effects not listed in this leaflet.
Rare: Vomiting, abdominal pain, oral irritation, bone, muscle and/or joint pain, muscle cramps, allergic reactions (including rash, a high temperature and increased levels of liver enzymes), itching, hives, blistering, angioedema (such as swollen face, tongue or throat, difficulty in breathing or swallowing), swelling in limbs, feeling confused, bronchial hyperreactivity (symptoms include wheezing and shortness of breath). You should immediately stop taking Tronsium and see your doctor if you experience symptoms of angioedema or allergic reactions.
Driving and using machines
Tronsium is unlikely to affect your ability to drive or use machines.
Informations regarding dosage and administration
- Always take Tronsium exactly as your doctor has told you.
- Tronsium can interact with milk and milk products, so it is important that you mix Tronsium only with water to be sure it works properly.
- You should not leave it more than 24 hours before you drink it. If for some reason you cannot drink the medicine straight away, make sure you stir it again before drinking.
- Your doctor may advise you to take calcium and vitamin D supplements in addition Tronsium. Do not take calcium supplements at bedtime, at the same time as Tronsium. Food, milk, milk products, and calcium supplements reduce the absorption of strontium ranelate. It is recommended that you take Tronsium in-between meals, preferably at least two hours after food, milk or milk products or calcium supplements.
- Your doctor will tell you how long you should continue to take Tronsium. Osteoporosis-therapy is usually required for a long period. It is important that you continue taking Tronsium for as long as your doctor prescribes the medicine.
Overdosage
If you take too many sachets of Tronsium, tell your doctor or pharmacist. They may advise you to drink milk or take antacids to reduce the absorption of the active ingredient.
Missed dose
Do not take a double dose to make up for forgotten individual doses. Just carry on with the next dose at the normal time.
Dosage
Tronsium is for oral use. The recommended dose is one 2g sachet a day.
It is recommended that you take Tronsium at bedtime, preferably at least 2 hours after dinner.
You may lie down immediately after taking Tronsium if you wish.
Administration Method
- Empty Tronsium from the sachet into a glass.
- Add water.
- Stir until the granules are evenly dispersed in the water then drink the suspension straight away.
How to store Tronsium
Keep out of the reach and sight of children. This medicinal product does not require any special storage conditions. Do not use after the expiry date which is stated on the box and the sachet.
Presentation
Tronsium: Box contains 7, 14 or 28 sachets.