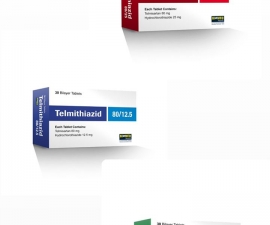 telmithiazid
telmisartan and hydrochlorothiazide
COMPOSITION: each tablet contains: Telmisartan 40 mg, Hydrochlorothiazide 12.5 mg Telmisartan 80 mg, Hydrochlorothiazide 12.5 mg Telmisartan 80 mg, Hydrochlorothiazide 25 mg EXCIPIENTS: sodium hydroxide, povidone, meglumine, sorbitol, magnesium stearate, lactose monohydrate, microcrystalline cellulose, corn starch, sodium starch glycolate, ferric oxide red, ferric oxide yellow.
MECHANISM OF ACTION: Telmithiazed is a combination of two drugs with antihypertensive properties: a thiazide diuretic, hydrochlorothiazide, and an angiotensin II receptor blocker (ARB), telmisartan
Telmisartan: Telmisartan blocks the vasoconstrictor and aldosterone secreting effects of angiotensin II by selectively blocking the binding of angiotensin II to the AT1 receptor in many tissues, such as vascular smooth muscle and the adrenal gland. Its action is therefore independent of the pathways for angiotensin II synthesis. Telmisartan has much greater affinity ( > 3,000-fold) for the AT1 receptor than for the AT2 receptor. Hydrochlorothiazide: Hydrochlorothiazide is a thiazide diuretic. Thiazides affect the renal tubular mechanisms of electrolyte reabsorption, directly increasing excretion of sodium salt and chloride in approximately equivalent amounts. Indirectly, the diuretic action of hydrochlorothiazide reduces plasma volume, with consequent increases in plasma renin activity, increases in aldosterone secretion, increases in urinary potassium loss, and decreases in serum potassium. The renin-aldosterone link is mediated by angiotensin II, so coadministration of an ARB tends to reverse the potassium loss associated with these diuretics. The mechanism of the antihypertensive effect of thiazides is not fully understood.
INDICATIONS: Telmithiazid : is indicated for the treatment of hypertension, to lower blood pressure. Telmithiazid is not indicated for initial therapy for the treatment of hypertension. may be used alone or in combination with other antihypertensive agents.
Pharmaceutical Form: Tablets