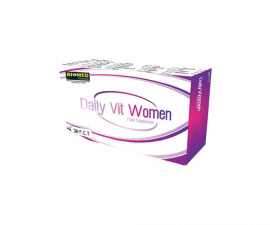 Daily Vit Women
Daily Vit Women
Film Coated Tablets
Each Film coated tablet contains
Quantity

Active Ingredient

Quantity

Active Ingredient

9 mg

Pantothenic acid

800 μg

Vitamin A

(As β-carotene 50%)

4.2 mg

Iron

16 mg

Vitamin E

320 mg

Calcium

120 mg

Vitamin C

100 μg

Iodine

30 μg

Vitamin K

500 μg

Copper

1.5 mg

Vitamin B1

2 mg

Manganese

1.8 mg

Vitamin B2

112.5 mg

Magnesium

2.1 mg

Vitamin B6

105 mg

Phosphorus

7.5 μg

Vitamin B12

40 μg

Chromium

10 μg

Vitamin D

50 μg

Molybdenum

75 μg

Biotin

30 μg

Selemium

300 μg

Folic acid

5 mg

Zinc

20 mg

Niacin
Usage :
Daily Vit Women is a complete multivitamin tailored to the changing health needs of Women over 50 With adjusted levels of key nutrients such as B vitamins to help release energy from food, Vitamin C, Zinc and Selenium to support the normal function of the immune system, Vitamin B6 to help regulate hormonal activity, and high in calcium, vitamin D and K to help maintain normal bones.
Hazards and Cautions
- A healthy lifestyle and a varied and balanced diet are important. This product should not be used as a substitute for a varied and balanced diet.
- If taking other supplements, please read the label, since they may contain the same ingredients.
- Product contains iron, which can be harmful to children if taken in large doses.
- This product is not suitable for pregnant or breast feeding women.
Contraindications:
An allergic to any ingredient in Daily Vit women.
Undesirable effects:
Common side effects persist or become bothersome: Diarrhea; dizziness; headache; stomach upset.
Severe allergic reactions (rash; hives; itching; difficulty breathing; tightness in the chest; swelling of the mouth, face, lips, or tongue); blurred vision; dark urine; frequent hunger, thirst, or urination; persistent diarrhea, nausea, or vomiting; stomach pain; yellowing of the skin or eyes.
DOSAGE AND ADMINISTRATION
Take one tablet daily with water, preferably with food.
Do not exceed the recommended daily dose.
Suitable for adult women aged over 50.
STORAGE:
Store below 25°C in a dry place, and out of the reach of children.
Packaging:
Carton box contains 30 film coated tablets
Pharmaceutical Form: Coated Tablets