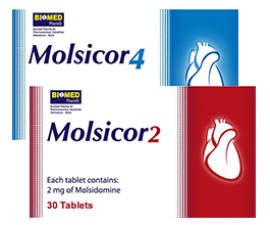 Molsicore
Each tablet contains: 2 or 4 mg Molsidomine
Pharmaceutical Form: Tablets
Leaflet
Molsicor
Tablets
Composition: Each Molsicor tablet contains 2 mg, 4 mg of molsidomine.
Indications: This medicine is an anti – anginal agent this medicine is recommended for the treatment of a severe angina pectoris. Molsicor is not suited to the treatment of the angina pectoris attack.
Contraindications
This medicine SHOULD NOT BE USED in the following cases:
§ Molsicor is contraindicated in patients with known hypersensitivity to any of the components of the product.
§ Severe hypotension with shock.
§ If you are currently treated with molsidomine, do not use sildenafil. The combination of molsidomine and VIAGRA (sildenafil) can induce a marked and sudden fall in blood pressure, possibly causing a lipothymia (transient malaise), fainting or a cardiac event.
§ Due to its content in lactose, you should not take this medicine in case of galactosemia, of glucose and galactose and galactose malabsorption syndrome or in case of deficit in lactase (rare metabolic diseases).
§ This medicine is usually not advisable in breast – feeding.
WARNINGS AND PRECAUTIONS
§ This medicinal product must be used cautiously in patients with low blood pressure and in elderly subjects, in patients with hypovolaemia and in subjects already treated with a vasodilator substance.
§ The dosage should be increased gradually in patients with impaired liver function.
§ It is not logical to combine molsidomine with delayed organic nitrates insofar as their way of action is similar.
SIDE EFFECTS:
Headache and slight blood pressure at the beginning of treatment. These effects disappear spontaneously within a few days.
Exceptionally: postural hypotension (fall of blood pressure on standing up, possibility accompanied by dizziness), gastrointestinal disorders, itching. Inform you doctor or your pharmacist of any unwanted and harmful effects which may not be mentioned in this leaflet.
DRUG INTEACTIONS
In order to avoid certain drug interactions, more especially with VIAGRA (sidenafil) you should inform your physician or your pharmacist of any other treatment which you may be taking.
PREGNANCY AND BREAST FEEDING
It is preferable not to use this medicinal product during pregnancy or breast – feeding. If you discover that you are pregnant while taking treatment, consult your physician, as only he can decide whether or not treatment should be continued. As a general rule if you are Pregnant or breast-feeding, ask your doctor or pharmacist for advice before taking any medicine.
Dosage and Method of Administration:
In general, the daily dose for Molsicor ranges between 3-12 mg.
Effort angina (usual dosage): 1 to 2 mg, 3 times a day, oral route, generally with breakfast, lunch and dinner (i.e 3 to 6 mg of molsidomine).
Unstable angina and severe effort angina: 2 mg, 4 times a day, oral route (i.e. 8 mg of molsidomine).
Sever angina: 4 mg, 3 times a day, oral route (i.e. 12 mg of molsidomine). The need to increase the dose may be necessary in some cases of unstable angina.
The dosage should be adjusted according to the activity and patient's activity rate.
Presentation
Molsicor 2 mg: Box contains 15 or 30 tables.
Molsicor 4 mg: Box contains 15 or 30 tables.