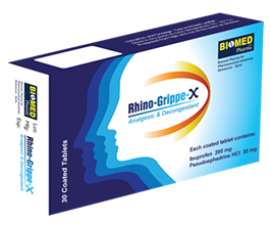 Phino-Grippe-X
Ibuprofen + Pseudoephedrine HCI
Each Film coated tablet contains:
Ibuprofen 200 mg, Pseudoephedrine HCI 30 mg
Pharmaceutical Form: F.C. Tablets
Leaflet
RHINO-GRIPPE-X
Composition: Each Film coated tablet contains:
Ibuprofen 200 mg, Pseudoephedrine HCl 30 mg.
RHINO-GRIPPE-X: Analgesic –Decongestant
Indications
For effective relief of the symptoms of colds and sinusitis including sinus pain, nasal congestion, headache, fever, and body aches and pains.
Contraindications
Do not use:
If you have ever had an allergic reaction to any other pain reliever/fever reducer.
Right before or after heart surgery.
When you are taking a prescription monoamine oxidase inhibitor (MAOI) (certain drugs for depression, psychiatric or emotional conditions, or Parkinson's disease), or for 2 weeks after stopping the MAOI drug. If you do not know if your prescription drug contains an MAOI, ask a doctor or pharmacist before taking this product.
Directions
Adults and children over 12 years: Take 1 or 2 tablets every four- six hours as needed. Do not exceed six tablets in 24 hours, unless directed by a physician. If stomach upset occurs take with food or milk. Do not take more than directed. The smallest effective dose should be used.
Pregnancy and breastfeeding
Ask a health professional before use. It is especially important not to use the drug during the last 3 months of pregnancy unless definitely directed by a doctor because it may cause problems in the unborn child or complications during delivery.
Warnings:
Do not give to children aged 2-12 unless directed by a physician, do not give to children under 2 years.
Ibuprofen may cause a severe allergic reaction, especially in people allergic to aspirin. Symptoms may include: hives, facial swelling, wheezing, shock, skin reddening, rash, blisters. If an allergic reaction occurs, stop use and seek medical help right away.
This product contains a nonsterodial anti-inflammatory drug (NSAID), which may cause stomach bleeding. The chance is higher if you: are aged 60 or older, have had stomach ulcers or bleeding problems, take an anticoagulant or steroid drug, take other drugs contains NSAID (aspirin, ibuprofen, naproxen, or others), drinking alcohol, take more or for longer time than directed.
Consult your physician before taking Rhino-Grippe-X if you have Problems or serious side effects from taking pain relievers or fever reducers, reached age 60 or older, peptic ulcers, asthma, diabetes, high blood pressure, heart, thyroid, kidney or liver disease, glaucoma, difficulty in urination due to prostate enlargement, any other serious disease, or are taking any other drug (diuretics).
Discontinue use immediately and contact a physician if these side effects occur: abdominal pain, heartburn, nausea or vomiting, bloating, diarrhea or constipation, ringing or buzzing in the ears, any change in vision, fluid retention, itching, skin rashes, stomach bleeding, pain gets worse or lasts more than 10 days, fever gets worse or lasts more than 3 days, stomach pain or upset gets worse or lasts, any new symptoms appear, you get nervous, dizzy or sleepless, nasal congestion lasts for more than 7 days or any other side effect develops while taking Rhino-Grippe-X. In case of overdose, call a hospital or a doctor at once.
Drug interactions:
Ask a doctor or pharmacist before use if you are taking any other drug containing an NSAID (prescription or nonprescription) and/or a nasal decongestant, a blood thinning (anticoagulant) or steroid drug, any other product that contains ibuprofen or Pseudoephedrine.
Presentation
Rhino-Grippe-X: Box of 30 film coated tablets.
Rhino-Grippe-X: Box of 240 film coated tablets.
Storage
Keep out of the reach of children, Store at room temperature (15- 30˚C). Do not use if blister unit is broken or open.